Holiday in the flower island Madeira

Madeira is the first holiday island that I visited twice until now. The island is so beautiful and diversed that one can have many holidays there in life.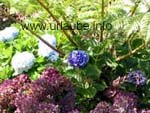 In Madeira it is not only possible to have a placid beach holiday, but also to do countless hiking tours. There are also a lot of water sports for which Madeira is a real paradise. Nature lovers get their money worth, as the island is a true paradise concerning the plants and flowers.
Madeira is the first holiday island that I visited twice. And I am already sure that it won't take much time until it will be written here that I hace visited it three times in total, as I am far away from having already discovered all the beauty and sightseeing places of the island.
Index
In this page, you will find some general information about the island, as also a few statistical data about the size or the number of inhabitants of the island. Also, you will find some information about the climate, the vegetation and the topography of the island.
I am specially proud of this page, as it is completely peppered with gorgeous and significant pictures that our friend Manfred Hofmann has made during his holiday in Madeira.
Many visitors of Madeira lived in Funchal and most of the others do a side trip to the capital of the island. On this page, there is some information about the capital, a view into the historical evolution and travel tips.
It is indeed possible to do a circumnavigation of the whole island in one day, but then one did not see anything of the island. This is the reason why there is half a circumnavigation of the island that is recomemndable to everybody.
From the bathing resort Calheta we start a tour around the western part of the island and we also do a side trip into the core of the west.
A visit to the third highest peak of the island definetely belongs to the absolute obligatory program of each tourist in Madeira. On this page, we "climb up" this peak together.
The hotel that is situated at the south west of the island is my recommendation for those people who want to relax a little from the tourist hype aside form the area of Funchal. It is the first hotel in which we spent two times our holidays.
The Hotel Ondamar that is situated close to Funchal is my recommendation for those people that want to have also sports, fitness and wellness during their holidays.
Graphics and comments about the day and night temperatures, water temperatures, sunshine and rail fall hours per day.
On this page, there is further information and recommendations for a holiday in Madeira. People who want to rent a car on the island get here some tips of a reliable car rental with which I had some good experiences.