Singapore - a fascinating Metropolis in Asia

The city state Singapore, an exotic name that promises a lot! For the most tourists, Singapore is only a stop-over for further distant destinations as Australia or New Zealand.
But this city does not need to hide at all! Specially as a point of introduction for Asia, Singapore is very recommendable, as it unites many different Asian influences and is still a very western city that is, considering it is located in south-east Asia, extremely clean. Not least because of its feared laws (Singapur - a fine City) Chinese, Malays,Indians, Europeans and foreign workers from all over the world live here in peace together.
The city is alredy so pupular that it literally burst at the seams! Repeatedely sand is filled up that most of the times it is imported from the neighbour country Indonesia. Less known for its boom as the city Dubai is, but in the construction boom at the same level, the skyscrapers sprout out of the ground. Despite its skyline and the Central Business District (CBD), the city keeps its character and many city districts are marked by the image of the shophouses (small, colourful houses with outstanding window shutters) and a lot of green areas.
With the climate, some could have problems in Singapore, as it is mostly very humid and this is the reason why the sightseeing can get a little complicated. But therefore, one is rewarded with deliciousnesses from all over the world, as people in Singapur love food! The meals are taken mostly outside, as there, the food is so cheap that nobody cooks at home. The second favourite thing after eating is shopping for the people of Singapore, a thing that one really has a lot of opportunities for. Countless and huge shopping malls as per American model invite to untroubled shopping tours in which one can admire the arquitecture at the same time.
What else does Singapore offer? Beside the buildings of the colony times there are numerous plazas, museums, theatres, parks, churches, temples, mosques and festivities. There is also a high number of cafés, restaurants, bars and evening entertainment. Moreover, Singapur has an own beach (Sentosa) with possibilities for sports and adventures, where there is something offered for any age category. Furthermore, there are close islands as for example Ubin (Pulau = Malay for island) or Pulau Bintan and Pulau Batam (Indonesia) to explore.
The unusual city state Singapore is simply fascinating, as there, one can experience a mix of different cultures that united there. It would be a pity to view Singapur in 2-3 days in a stuffed time schedule and to have no chance to explore the real life there and have a look under the surface.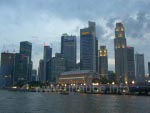 Myself, I made a training in Singapore and lived there for nearly 7 months. For me, it was the first longer stay abroad and I could collect there a lot of experience in relaion to foreign cultures. Moreover, I became a total Asia fan and I am convinced that other people will became it too. In relation to the working life I sometimes missed the typical german attitudes like bureaucracy, thoroughness, and independence. As all this makes the daily routine in the office much easier and one needs a lot of patience and understanding for accepting the for us foreign way of working. But most of the times, one is compensated in Singapur with friendlyness, polliteness and cordiality from the people.
Living in Singapore was also a complete new thing to me! I am from Munich and therefore I am used to high rents of the big cities, but despite of this, the living situation of Singapore amazed me. Not only that I paid approximately 400 Euro for a small room in a shared flat, but also the scarceness and narrowness of the city with an increasing number of people. But therefore I had a fantastic view (31. floor) to the Arab quarter and the Parkview Square Tower. When travelling to Singapore one usually stays in one of the numerous hotels in the city. On one of the numerous booking sites in the internet one can find a big choice of hotels in Singapore, starting with simple places to stay up to 5-star luxury temples.
What was also fantastic is that one could get everywhere by foot and/or with the MRT and no car was needed. Unfortunately, I could never get used to this sweltering and humid heat and to the constant air humidity. Of course, the climate has therefore other advantages and one get move around without any coat and by wearing summer clothes. Moreover, the warmness contributes to the fact that one is automatically in a good mood and starts the day in a different way than if it was dark and cold outside. But what was unusual is that it oftenly rained and there is no exact weather forecast to get orientated.
Concerning the food, I have to admit that during the last month of my stay I mainly only had international food or fast-food, as somewhen I had tried everything and simply did not feel anymore like having "Asian" food. Everything simply tasted in the same way and only the smells of the partly intensive spices were too much for me. I realized for the first time how strong the eating habits and also the taste depend on which continent one has grown up.
In total, Singapore was the perfect place for me not only to explore the city itself but also for travelling to many parts of south-east Asia and knowing them. Due to the very convenient geographic situation I could visit many of the surrounding countries as Thailand, Indonesia, Kambodscha and Malaysia and get an impression of the way the life is there. According to my opinion, so many things are offered for so less money there that I plan to travel to there again at least one more time.
Index
History of Singapore
The Inhabitants of Singapore
Data and Facts
Arrival and Entry
Little India
Chinatown
Arab Street and Sultan Mosque
Esplanade - Theatres on the Bay
Old Parliament House
Chijmes
Raffles Hotel
Bugis Junction and Bugis Street
Clarke Quay
Fullerton Hotel
Merlion Park
Singapore Night Safari
Mac Ritchie Reservoir
Marina City Mall
Food Republic
Choice of National Spacialities
Hawker Center
Suntec City
Sim Lim Square
Orchard Road
Vivo City
Bars and Pubs
Clubs and Discotheques
Beach, Bathing
Cafe del Mar
Attractions of Sentosa
Day Temperatures
Night Temperatures
Rainfalls
Sunshine Hours
Clothing, Tips
Road Traffic
Subway Net (MRT)
Buses
Taxis
Prices and Beer Money
Bank Holidays
Recommendable Websites